RETRO MOMENT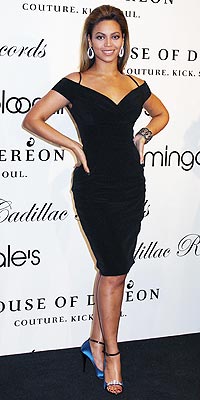 Beyoncé tells that she found inspiration for her own style in playing '60s star Etta James in Cadillac Records. "Some of the necklines and silhouettes, and even some of the fabrics they chose, look so appropriate for now," she says. "I love them! I feel that everything comes back, and since this is something so special to me we incorporated it in line."
CURVES AHEAD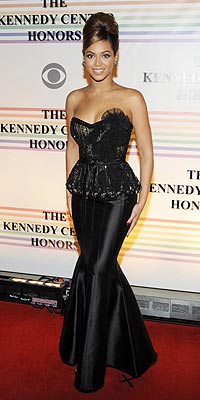 And since the star loves to celebrate her show-stopping curves, she's figured out her go-to silhouette for gowns: "Definitely something that's hourglass and is tailored at the knee and goes out like a fishtail."
GIRL GROUP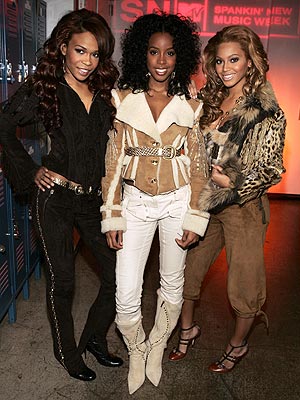 Beyoncé admits her style "has evolved a lot" since her days in Destiny's Child. "We were really trendy," she says – perhaps too much so. "You look at some of the pictures now and I'm mortified. It was fun ... but you just wish that some of your teenage years you don't have to see. You want to bury them away!"

RAY OF LIGHT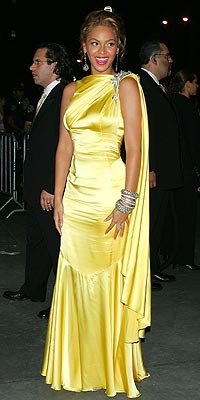 For the 2004 CFDA Fashion Awards in N.Y.C., the singer stood out in a vibrant yellow satin gown designed by her mother Tina Knowles. "I loved [this dress] because it was old Hollywood glamour," she says, pointing out the contrast of her hot pink lips. "And this was when Lorraine Schwartz, my jeweler, first started stacking all the bangles."

BLUE BELLE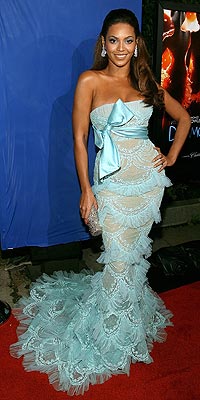 The star celebrated her role in Dreamgirls in a frothy Elie Saab gown that she says "may be one of my favorite dresses with all of the details in the lace. Elie Saab, his dresses always fit me really nicely and the big bow was something they did a lot in the '60s."

GOLD STAR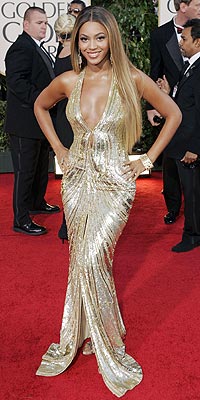 Beyoncé stole the spotlight at the 2007 Golden Globes in her body-hugging, Elie Saab gown. "I love this because it was for Dreamgirls, and I wanted to go all out. I love the material and I love the shape of the beading," she says. "It was all about the Golden Globes so I chose gold. I'm a golden girl."

SHORT CUT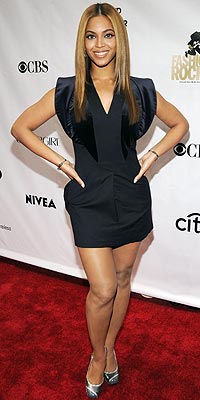 For this year's Fashion Rocks, Beyoncé decided to leave the gowns at home. "I've worn so many long gowns, I wanted to do something really easy," she says of her Costume National pick. "I love that it looks like just a classic black dress, but when you look closely you see the details – the navy blue velvet, the silhouette, and the rounded shoulders, [which are] really graphic."

SHARP EDGES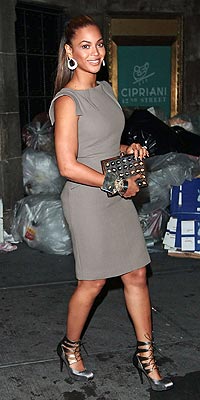 Describing her current style as "graphic and more focused on things that feel more modern and chic," Beyoncé hit an N.Y.C. charity event in a slim Roland Mouret dress this fall. "It's great for someone that's curvier, and I love the shoulder details," she says, but adds: "What I loved the most were the bangles. They were really sharp and actually not the most comfortable. They were like weapons!"
ALTER EGO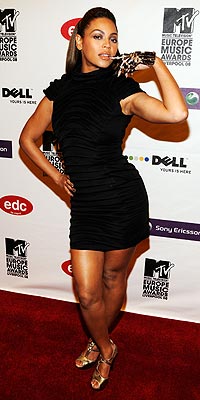 Beyoncé channels her alter-ego Sasha Fierce for her album and her onstage performances. She arrived at the MTV Europe Awards in a daring Gareth Pugh and Lorraine Schwartz titanium glove. What's behind the new look? "I have an excuse to go completely over-the-top with Sasha Fierce," she says, "because she's the opposite of me."
Get The Newest Women's Fashion Here >>
Bookmark/Share this article with others: