You will find all the latest new fashion looks for Spring 2008 listed here at fashion-era. At this time, I sense a fashion exposure that brings a liberating breezy change. Spring 2008 is replete with fresh airy-light fashion in clear, bright, plain and solid colours. There is also exuberant pattern and print. With the new fashion trends for Spring and Summer 2008 you too can bloom anew. This garment collage above, illustrates the Spring 2008 colour palette. Full details of the retailers are given below.
2008 fashion colour is cheerful without being tawdry. The soft tones of sugar almond tints offer mellow contrasts to neon bright colours. Lemon, yellow and gold are colour trends that bring a glow of bright light to everything, especially to bags and footwear. The fashion Pantone's trendsetter tones for Spring Summer 2008 are clear and bright. Nautical and traditional looks offer navy, red and white as combinations ideally suited for both work and casual wear. The optical effects of these new arrangements of stripes and spots all add a classic edge.
For those who like understated looks, and are less fond of bright colours, then fashionable subdued colour schemes are for you. Black with white frequently adds a groomed and ladylike touch that exudes style and sophistication. Ecru, browns and olives are dominant colours for safari down-dressing and tribal looks.
Of these top twenty fashion trends, just 3 or 4 will probably have some real impact on your wardrobe.
VOLUME - Short full dirndl swishing skirts - Belted volume, fluid dhoti pants cropped or long
SHOES - Colour & print, wedges, Gladiators, espadrilles, peep toes, cone wooden heels, straps
ROMANCE - Tiered ruffles , frills and roses on skirts, dresses, tops, blouses, necklines
LE JARDIN - BOTANICAL - DOLLY PRINTS - Retro florals, 40, 50s, 70s flower print blouses
ARTIST BRUSHSTROKES - PAINTERLY PRINTS - Graffiti like scribbles and smears, Ombre dip/tie dyed
FABULOUS FROCKS - Asymmetric draped dresses, tea dresses, maxi dresses
UNDERWEAR EFFECTS - Transparent chiffons - layered sheers, see through construction dresses, jackets
CITRUS BLOCK COLOURS - Orange, tangerine, mandarin, peach, yellow, gold, lemon, yellow, citrus green
TRIBAL EARTH - AFRICAN Traditional prints - Earthy Asian textures, animal and feather fabrics
TOP COLOURS - PURPLE REIGN - Violet to lilac - sugar almonds - soft tints - neon shocks
ECLECTIC PATCHWORK - Multi coloured mixed materials in frocks, t-shirts and footwear, jarring to exquisite
JUMPSUITS - The all in one jumpsuit go anywhere outfit, cut for evening and day, deluxe or safari style
TROUSERS - HIGH WAIST FLARED JEANS - Coloured skinny jeans, cropped narrow jodhpurs, wide trousers
MILITARY SAFARI - Practical pockets, easy shirt stand summer dresses, military touches
THE NEW DENIM - DENIM BLUE - Frayed and faded with white shirts or whitework Victoriana prairie blouses
NAUTICAL TAILORING - Blazers, trims, shoulders, tuxedo shawl collar white narrow/wide pants suits.
AMERICANA - Traditional stripes, spots and celestial stars. Navajo and Rockabilly looks
DECORATION - TRIMS or BRAIDS - Folkloric embroidery, cutwork, laser cutting, bead embellished fringes
LUXURY MATERIALS & FABRICS - Leathers, satins and silks, fine embroidery, fabric flower roses
ACCESSORIES - Clutch/small handbags, cuffs, bangles, big sunglasses, scarves, skinny belts.
CONTROLLED VOLUME
PRINT APPLICATION
DYE COLOUR APPLICATION
FABRIC LIGHTNESS & SHEERNESS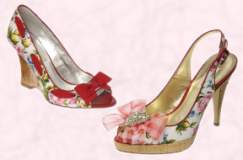 Printed pattern, especially floral pattern, is broad in its fashion application. It appears not only on clothes, but also as footwear material. There is a strong footwear trend for bright colour and lively pattern. The patterned footwear trend started with animal print patterns, and now we have moved on to patchwork and floral print shoes.
In general clothing, there is even more pattern and texture as designers create layered looks. They sometimes use an eclectic patchwork of mixed plain and printed fabrics, fabric flowers, cutwork, appliqué, see-through or satin contrast borders and piped contrast edges.
Above left - Patterned floral and gingham check trimmed shoes right are courtesy of Dune. Kinn Wedge floral print shoe by Dune with red bow and insertion trim - £85 or €120. Kerala Sandal by Dune with check bow and red piped sling strap - £75 or €105.
Vintage style dolly prints, and sprigged patterns, flow along fabrics creating borders reminiscent of wild cottage gardens. Abstract prints with a global feel using ikat, earthy African tribal symbolism and Americana all look strikingly modern.
Hot Tip - On the up - Patterned shoes
Botanical or floral prints bring the garden onto clothing and accessories. The impact making change within floral prints, is that they are often painterly with the appearance of brushstrokes. Trends in fabrics show materials often have the look of hand painting, or graffiti like scribbles and smears; whilst some are more colour oriented and appear spray, tie, or Ombre dip dyed.

Note too, many other ditsy retro florals influenced by 40, 50s and 70s dolly print found on cutie blouses. Naturally, a long stem with a flower head makes for great life-size border prints, and from that innovative new silhouette styles have emerged.
Left - Cute print dress mixing several fashion trends in one from Marks and Spencer's Spring Summer 2008 Per Una range. Gorgeous Lily Cole models this fashionable summer dress which illustrates patchwork, abstract floral printed fabric, semi-sheer tiers and a new fascination with the colour blue.
Right - The original inspiration of one of the D&G patchwork print dresses.
This soft feminine look is terrific with metallic footwear, but the look can easily be toughened up by wearing calf strapped Gladiator sandals, or heavier flat footwear such as shoe boots. This was a trend back in the 1980s when girly Laura Ashley dresses were made to look more aggressive when solid black Doc Marten shoes were were teamed with the dolly prints.
For spring 2008 fashion trends, prints are painterly with joyful expressive marks that suggest the luxuriant artist brushstrokes only found in hand painting. The ethereal coloured effects are of vibrant watercolour paints that are ripe with the botanical succulence of a cascading flower filled jardinière.
Watch for fabrics with super size cabbage roses, daisies, tea roses, orchids, poppies and exotic blooms. Part of this look is enhanced by tie dye watercolour effects where pattern fades into watercolour runs or colour bleeding.
Right - Painted hand painted fabric coat from Rodarte - Image courtesy of Swarovski.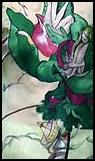 Think of fabrics and accessories that have the appearance of a work-of-art canvas. These hand painted fabrics often have prints and textures that concentrate on flowers, blooms, buds and blossoms, but some prints are more abstract. Look out for mass market versions of hand painted effects.
These blooms have varying tactile characteristics, ranging from flower petals that appear paper-dry like a pastel, silken like a wet paint petal, or like a vibrant effusion of watercolour like tints. Others have the chalky sheerness of pressed flowers.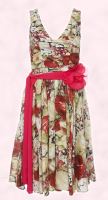 Left - Luscious green toned floral print from Prada.
To add to the floral effect that is so fashionable, many dresses are trimmed with fabric roses, or flowers made of silk chiffon and attached as a corsage to a belt sash.
Right - Fabulously floral, Wallis Spring Summer 2008 Floral georgette dress with corsage £35, €55.
Blossoms with paper-thin petal texture, glossy satin smooth buds and tightly bunched sprigs of every horticultural bloom imaginable, tumble down fabrics in summer garden profusion.
Since foliage is a feature of many floral prints, keep a close eye on the colour green. Green is working well as a stand alone hue, so be sure to add some to your wardrobe soon, but of course only if you look great in it, rather than look ill. Blues right through to the green spectrum have gained ground as popular colour trends this past year.
Fabric trends reveal silky satins, lace, bead fringe, cutwork and semi-sheer fabric that is set against transparent wisps of materials that float and mesmerize. As the body shifts and moves, so the fabric sways in the breeze like a windswept flagpole.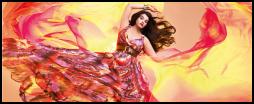 Like fluttering butterfly wings, tea dresses and maxi dresses all make use of the airy lightness of barely there fabrics with flounces and ruffles that could take on any wind machine.
All this leads us to a season without restrictions, which is fresh, light, transparent, young modern and romantic. Hence underwear yet again, becomes outerwear. Read more about the underwear to daywear look in wardrobe tips. Fashion image left courtesy of the Evans Spring/Summer 2008 collection - Tie dye maxi dress £55/€75.
Hot Tip - 2008 Must-have - Painterly Looks

Ownership of the dress has become an established fashion trend again. But to have the latest spring 2008 fashionable dress, look to the colour and pattern as well as the fashion silhouette. Left - Principles Top from Principles Spring Summer 2008 Main Collection.
Many of the latest feminine and flirtatious dresses are in Ombre dyed fabrics which rely on graduated colour bleeding of the dyes.
Colour is applied to fabrics using old techniques such as Ombre dip dyeing, which creates a graduated strength of dye effect. To this add tie and dye, batik, spray dyeing or a combination of sublimate transfer dye techniques and a novel and often unique fabric is the end result.
This dye technique can be a very dramatic strong look so if all that merging dye is too much for you in a full garment, simply select a scarf and dilute the look rather than let it dominate your image.
HOT LAUNDRY TIP
- Always make sure you launder/wash such articles separately from other garments; otherwise the colours may bleed and run disastrously.
Volume in clothing took us by surprise just a few years ago, but by 2007 wearing a fuller cropped jacket, swing coat, yoked top or loose tunic dress was the norm. Women had adopted the volume fashion trend once they discovered if there was too much fullness they could easily reign it in with a belt. Now, Spring Summer 2008 fashion trends, show that volume is still with us and the cropped jacket remains popular.
Top Fashion Trend Tip 2008 - Full Skirts
Hot Tip - 2008 Must-have - Fuller skirts
Volume in SKIRTS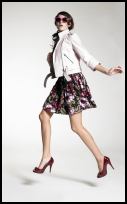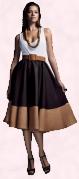 In particular skirt shapes have been refreshed again, so the volume trend seems new and lively. Easy gathered dirndl skirts that swish and swing, or full skirts consisting solely of tiered ruffles are a newer way to adopt volume. The waist can be a focus of interest if you have a waist to show.
Hot Tip - 2008 Must-have - Fuller skirts
This short Dirndl skirt and jacket shown left is from New Look Spring Summer 2008 fashion collection. Note the easy carefree movement in the floral printed skirt. No fuss, easy to wear, but pretty yet practical for the uplift you will get with summer days.
Above right - Debenhams Womenswear Spring/Summer 2008 - Red Herring white vest £6/€9.50, Betty Jackson. Black circle skirt £50/€78, Mantarary tribal look necklace £12/€18.50 and chunky ring £6/€9.50.
Full skirts are always popular with women since they enable free leg movement. With time, whatever your age, the Summer of 08, is one you will probably recall as the summer of lightness and freedom in fashion trends.

Even straight dresses can have plenty of volume. A top trend this summer is for draped Grecian looks. Dresses with Grecian goddess draping, and volume gathers, are often straight in line, but the fabric is generous yet controlled. Look to the grace of global inspiration with sari asymmetric style draped dresses, tunics or one shoulder Grecian gowns. One shoulder toga looks have even reached swim suits. The focus is on the neckline so don't clutter that gorgeous collar bone with neck jewellery, but do add important earrings and bangles or cuffs along the arm. A short sharp bob hair style or an updo will create a clearer view of the nape of the neckline and the statement making shoulder line than long hair extensions might.
Whilst these dress and top examples are sleeveless, it is worth observing how many tops and dresses have puff fullness and ruffles that increase sleeve/shoulder volume substantially.
Right - Wallis SS08 Look book Satin one shoulder wrap dress £70, €110.
Roses Grow On You
Froufrou ruffles cascade at blouse fronts. Tiered ruffles in mixed materials marry patchwork and botanical dolly flower prints. Right - Wallis SS08 Look Book Cream floral blouse £30, €47 and with asymmetric ruffle tiers, but on a normal tunic top. The design gives the effect of one shoulder, whilst actually being a standard bodice.
Luscious fabrics in crisp taffetas, soft satins and silks that glimmer and shimmer all create new ways with ruffles.

Some are soft, feminine and romantic, others bold and dominant in their intricate exaggerated execution. Ruffles show signs of being a strong fashion trend, but make sure you wear the ruffles rather than the ruffles wearing you. Tie fabric belts and bows feature heavily as on these two blouses from Wallis. Right - Wallis SS08 Look Book Fuchsia rose corsage blouse £30, €47.
Roses are fashion trend that will grow on you in summer 2008.
Volume in Pants
Tailoring also brings back the Tuxedo evening trouser suit, with its defined shoulders and wide trousers. These white pant suits have a go anywhere feel to them.
Right - New Look Spring Summer 2008 wide slouch leg trouser suit in white. This is a sophisticated version and formal tailoring that suits many women who find it easy to wear in real everyday working situations.
Fancy yourself as a colonial? Then try safari cut tailored garments with a military severity, but often with less structure than man tailored clothes.

Take the laid back approach with a less structured safari style and the loose dhoti look pants which offer relaxed dressing.
Left - The casual look of a safari influenced shirt jacket, tribal print top, teamed the new style cropped semi-fitting dhoti pants. Newly fashionable dhoti pants are far kinder than jodhpurs especially when the dhoti pants are made in soft draping fabrics.
These are possibly the most novel of fashion trends for the new trousers in 2008. Left - Warehouse Spring Summer 2008 Fashion Campaign - Tribal outfit - Trousers £35/€55, top £45/€70, belt £22/€35, jacket £45/€70, shoes £65/€99.
MILITARY SAFARI means practical pockets create easy summer wear, perfect for travel, casual looks and comfort.
Modern tribal prints are paired with clean safari styling in grown-up hues of vanilla, mocha, camel, olive and coffee, perhaps high lighted with chartreuse or tomato red. Tailored separates reference the 70's with sleeveless and cropped jackets paired with tailored skirts, shorts and flared walking pants.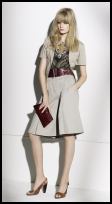 Relaxed easy pocketed trousers, or dhoti trousers with safari or military styling features can be bought in any length from cropped, to totally covering the foot. Safari is versatile and can reference almost any modern fashion trend of 2008.
When choosing safari trend clothing, select colours which are timeless and can be updated in other years. Test neutral beiges, creams, ecru, grey or found-in-nature tones of rust, old gold, khaki or olive green against your skin tone. Choose the fabric colouration that enhances you, since safari can be a severe look. Soft cottons worked up into safari jumpsuits and jackets with useful large safari pockets make a great travel item.
Think jungle and African Queen practicality.
Right - Traditional safari looks Warehouse Spring/Summer Campaign 2008 Safari linen suit jacket £45/€70, culottes £38/€59, top £40/€62, clutch £18/€27, belt £35/€55, shoes £65/€99.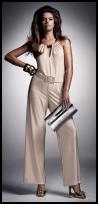 Jumpsuits, also called all-in-ones, were a great fashion trend of the 1960s and the 1970s. Now have truly been revived and since they are so practical they are sure to be a winner. Preen's lovely parachute silk jumpsuits are not to be confused with the all-in-one 1980s shell suits of yesteryear. Avoid any jumpsuits you see made of nylon rip-stop style parachute fabric, or you may well get a lot of déjà vu strange stares as people think - shell suit season! Choose this look and the fabric with great care.
Catsuits, or all-in-ones can be as classily glitzy as the Debenhams creamy oyster evening wear jumpsuit far left, or as cool and collected as the black safari style everyday wear near right.
Hot Tip - On the up - Jumpsuits
Above left - Debenhams Womenswear Spring/Summer 2008 - Star by Julien Macdonald shimmer catsuit £60/€93, Mood gold bangles from £8. Above right - Debenhams Womenswear Spring/Summer 2008 - Star by Julien Macdonald satin safari jumpsuit £60/€93 and Debut gold lame scarf £10/€15.50.
Colour trends are bold and bright. Hot fashion colours this spring summer 2008 that will go down in fashion history include lilac and violet. Purple reigns as much this spring as it did last season , but look out for subtle colour variations as the year 2008 progresses.
Citrus traverses the whole range of fashionable colours, from lime, lemons, grapefruit, to rich orange, mandarin and tangerine. Another big colour trend this summer is the golden group of yellow through to molten gold. Yellow is a hot colour for 2008. Citrus green chartreuse meets lemon, with a popular mix for fall 2008 being soft contrasting pastels teamed with a gentle lemon tone.
If classic and deluxe is your style then you can be fashionable by following updated global looks that are set to be top fashion trends. One step away from the painterly brushstroke effects are the sophisticated, graphic art prints with graffiti like imagery and earthy primitive tribal art effects.
Ethnic has given way to tribal earthy traditional prints, which fete African, Asian or Ikat influences and which work perfectly with the simple silhouette of garments such as the Kaftan, Kimono or Djellabah. The impressive prints remain almost intact by the simplicity of cut, and the tribal print is statement making. If you need even more of a statement simply pile on the tribal jewellery with native American Indian, bead and wooden trinkets providing textural contrast that suits the mood.
One step from tribal is deluxe drama utilising everything in nature that is seen as exotic. Think Luxe fabrics in animal and feather textures. Tactile fabrics range from moulded figure warrior-woman style, to the equally exotic feel of silken embellished loose flowing robes.
Right - Monsoon Spring Summer 2008 Womenswear - Malawi dress £180 in store in March 2008.
Hot Tip - On the up - Tribal prints
The new soft blues are fabric led with denim taking the lead.
Faded distressed denim is the newest fashion trend for standard blue denim. This will especially suit those who simply cannot bear to wear bright coloured denims. Choose the softest faded pale blue fabric that has a washed out earthy eco feel that says the denim is softened up with so much washing.
Pale blue denim when frayed and faded looks terrific teamed with white shirts. Victoriana frilled, ruched, ruffled whitework or dolly print dresses and patchwork blouses all bring out the summer Boho and cowboy looks so many of you still love.
Left - River Island Clothing Co. Ltd Spring Summer 2008 Jeans worn with Women's Camisole - Cami is £34.99/€58.50.
Americana gives us looks that are clean cut, by utilising stripes, spots and stars. These are given a wide degree of variation when mixed or contrasted in motif size. The ideal place for this look may well be best confined to the political venues of the supporters at presidential elections. This look merges with 'Nautical' when worked in the usual navy, red and white colour scheme. Tagging behind are Navajo and Rockabilly, both looks which highlight styling of previous generations. Stars add a zany edge, but already I find stars are a tired look.
Accessories always help give any fashion ensemble the look of the moment. Try wearing a large statement necklace, a wide bangle cuff, or a new narrow skinny belt with your latest fashion purchases. Volume, or lack of it, can create new looks and new silhouettes. Consider for example the trend in bag shapes. Oversized bags have reached their peak. Volume is reducing in bags with smaller bags emerging as the bag shape trend. One way toward this has been the introduction of the clutch shape with both large and small clutches in store.

Hot Tip - On the up - smaller bags and clutches.
Any cluth bag, large or small is fashionable, but the clutch shape heralds the way to the purchase of other smaller bags. Frankly anyone who has owned an oversize bag knows all too well how possessions gravitate toward it. All too soon the bag weighs as much as overnight or walk on luggage. Experts suggest that a bag AND its contents should weigh no more than 2lb if damage to shoulders and back are to be prevented.
If you are using accessories only to update your fashion image, then add to either the clutch or smaller handbag add some Gladiator sandals, or wooden cone heel peep-toed shoes. Wedge shoes, espadrilles and ankle strap style shoes will all add that 2008 spring summer edge. Narrow skinny belts will add the latest belt trend shape to your outfit.
Hot Tip - On the Up - Skinny belts


Watch for jackets, trousers, shorts and dresses all sold with skinny belts and corsage flowers. Right - Wallis Spring Summer 2008 - Cream belted fitted jacket £65/€99 and Wallis Cream corsage belted wide leg trousers £35/€55.
Feel the mood in the accessories of Spring Summer 2008. They are quite different fashion trends from earlier years of the noughties. Think patterned and printed footwear, the clutch and belts on the waist. Finally, place a few cuffs or bangles in a line up your wrist and you'll sail into the spring summer 2008 fashion season.
The noughties, the first decade of the new millennium, moves on and we are almost at the point where what we have worn the past 8 or 9 years, has almost defined a decade of fashion history. What you choose to wear this year will certainly count in the records of costume history. Have fun shopping online, or in the high street malls - I know I will.
Bookmark/Share this article with others: