Autumn 2008 & Winter 2009
Autumn Winter 2008/9 will be remembered as the STATEMENT SEASON. Watch out for statement coats and statement fabrics. You will also see statement heels, statement shoulders, statement jeweller and statement hair, together they define the next fashion era as one of classy grown-up clothing! Investment dressing is back.

To sum up the new fashion trends for autumn 2008/9, look out for garments with an architectural silhouette. Coats in particular are shapely and sculptured, with stand away collars, bell sleeves and skirts. You can wear these new shapes loose and easy, or add a belt to create your own silhouette.
Far right - Statement heels from Dior - Autumn 2008.
See how seductive opulent fabrics add newness to sculptured silhouettes, for example, rich damask, lace, beaded embellishment, fur, peek-a-boo sheers and slinky satins. This season you will also see, country tweeds, tartan checks and leathers. Also on the Autumn 2008 agenda are military touches, with pattern complexity provided by animal prints, sophisticated Goth effects, bows, Medieval elements and sporty/mannish styling.
Beaded slippers -New beaded ballerina flat shoe, the NEW evening alternative to high heels.
Tomato red is a major colour for this coming winter 2009.

Key colour fashion trends for Autumn 2008 and Winter 2009 are of grown up rich colours of autumn leaves, inky midnight and sky blues, burnt earth tones, or the depth of crushed red fruit berries.
Autumn 2008/9 is about new colour, about deep hues with the warmth of the renaissance palette.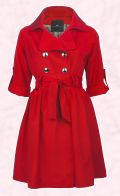 If you would like to check the Autumn/Winter 2008/9 colour palette then here are the dominant colours: tomato red, plus burnt ochre, cork, putty, sepia, bisque, honey, rich amber, cinnamon and brandy. There is also mushroom, earthy terracotta, auburn bronze, sienna, warm chocolate, crushed damson. Other colours include dusty pink, rose petal, claret, maroon, rich aubergine, blackberry, olive, pistachio, midnight sapphire, gunmetal grey, slate blue and deepest kingfisher teal.
In contrast to the autumnal hues, are the winter white and ice cream colour palettes favoured by some designers. The good news is there is a fashion hue to suit every woman in the 2008/9 autumn fashion palette - enjoy your colour quest.

The strongest colours trends in the high street for autumn 2008/Winter 2009 are tomato red, purple, teal blue, gold and puce orchid. There is also a lot of grey, blue and olive. Another interesting combination is orange and crushed cherry, frequently teamed with the more sombre neutral midnight inky blues.
Above left - Dior tomato red suit.
Above centre left - River Island Clothing - Red belted trench coat Mac £39.99 following a very similar line as the Dior suit.
Right - Red patent shoe boot £74.99 - Autumn Winter 2008/9 also River Island Clothing Co. Ltd -Stockist for both River Island items - 0208 991 4759.
Whilst blatant OTT bling is fading, this is the season where fashionable excess is acceptable, when it relates to a statement making well cut silhouette and beautiful materials. For Autumn 2008 think slow fashion. Think statement fashion rather than fast fashion.
This maybe the first time that younger consumers have faced a recession. Even experienced shoppers are having to take stock with cost of essentials rising faster than their pay. Consequently the state of the economy is effecting their own spending power, especially when it comes to pursuing the latest fashion trends.
Fashion ecommerce sales online may be rapidly advancing, but the high street mall is feeling the pinch. These pecuniary decisions mean female shoppers resisting shopping too far in advance. The cannot afford a hot-off-the-press fashion trend that is way ahead of a season or an event. When shopping in late July or August women were faced with racks of heavier clothing far better suited to a cooler October and November. The whole fashion season distribution system has lost its way. Too many of us find it is now almost operating in the wrong climatic season.
Reader it's time to begin to think about investment dressing. The autumn 2008 fashion season is about beautiful clothes that can be worn time and time again, dressed up, or dressed down. Your carefully considered selection of choice garments can make them become true vintage clothes of the future. Your love affair with a wisely selected garment can also be the start of a beautiful new relationship with your clothes.
Fuelling all of this 'less is more' attitude is the current recession. The reduced footfall in fashion outlets hinges on many factors. It does include a new consumer love affair with thrift plus an eco awareness born out of sheer boredom with possession of too many consumables. To that, add a deep underlying nagging fear we all have - the fear of some maltreated low paid worker of the third world, or even nearer home, who has slaved for hours on a hand crafted dress.
Whilst two or three of the strongest trends always emerge as mainstream key fashion looks, the mini trends should not be dismissed. We don't have just 3 or 4 fashion trends going on at any one time, we have lots of mini fashion fads too.
The choice and variety of styles and sizing for women is so much greater than ever before, so no one need feel there isn't a fashionable look for them. But this too has dangers, and means that so much choice has left many of us with bulging wardrobes of once 'trendy' clothes, which are hardly worn. We find our hands still reach for the more exclusive and fashionable items in our closets that make us feel expensive. Remember that items that boost our self esteem and make us look and feel 10 years younger get the most wear. So choose wisely from the trends on offer below, and start to think in terms of investment dressing as the next decade approaches. Make the next decade the fashion era you buy quality garments and accessories which help make you feel and look good, time and again.
1. STATEMENT SHAPE - Strong architectural coat silhouette - Trapeze A-lines, belted, origami folds, half sleeves.
2. COLOUR - JEWEL BRIGHT JOLTS - RED, RED, RED! PURPLE, PUCE, INK BLUES, TEAL, SEA, COCOA, BLACK.
3. STATEMENT SHOES - Sculptured/spiker heels. Contrast heels/soles/cutwork, multiple straps/buckles/ties.
4. FUR - FAUX/REAL - MONGOLIAN - Whole garments, shawl collars, gilets, trims, arm warmers, hem bands, bags.
5. BIKER JACKETS - Leather and/or fur trimmed biker jackets. Tartan/country/denim biker jackets. Gilet options.
6. PROM SKIRTS/DRESSES - Full fairy prom skirts/dresses. Longer skirts and tulip skirts.
7. BOHO FOLK - Complex stylised folksy floral print mixes, brilliant paisley, luxury fringing, wild Boho gilets.
8. LACE - Garments in textured lace, Swiss/Austrian/Guipure/Chantilly lace, fine lace, trims, with sheers.
9. PEEK-A-BOO - Black dresses/see through sheer areas, key hole necklines, sheer dark or lace tights.
10. GOTHIC BLACK - Smoky black Goth looks - velvet sheers, satins. Hardware, studs, lots of chains.
11.COUTURE CRAFTED OPULENCE - Trousers, tunics, jackets dresses totally in brocades/metallics/sequins.
12. COUNTRY PLAIDS & WOOLS - Traditional tartans/vivid colours; tartan footwear/bags. Country life tweeds.
13. MILITARY BUTTONED UP - Double breasted empire Pea coats in red, blue, gold, black; stand cowl necks.
14. GLOW - LEATHER, PATENT - Patent/ Leather dresses, coats, macs, bags, shoes, shoe boots that shine.
15. KNITS - Chunky cable knits, oversized cowl necklines, gossamer spider's web like knitwear, origami knits.
16. MANNISH - Tailored pants, masculine pant suits. CARROT TOP trousers. FLARED pants. SKINNY leathers.
17. ANIMAL PRINTS AND FURS - Animal print fabrics also in brights. Zebra/leopard bags, footwear.
18. FULLER SLEEVES & SLEEVE HEADS - Cropped fuller sleeves, structured rise supported/extended shoulders.
19. JEWELLERY - CHAINS - BIG RINGS - CUFFS - Lots of layered gold chains at neckline/wrist. Ornate cuff bangles.
20. BOLD LEGWEAR - Lace/bright hues/black opaque tights. Sheer dark hosiery. Animal/floral hosiery.
So for statement fashion think sculptured, folksy, animal, biker, opulence, lace, fur, tartan, bold tights, black or inky toned gothic and make your fashion statement.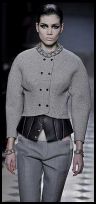 The new silhouette shape for Autumn 2008 shows an architectural leaning. This is a fashion trend to seriously follow.
These new architectural silhouettes create striking new shapes which often have the appearance of moulded forms.
The SHAPE of things to come.
Left - Nicolas Ghesquiere for Balenciaga, moulded silhouette look.
Centre - Louis Vuitton - Geometric tailoring and biker zipper features on this winter white coat.
Above far right - Statement making shapely curved cartoon blue, cotton and silk boucle coat, by Aquascutum - £2500.
Coats, and in particular jackets, have a sculpted feel. This effect is made more noticeable by the blank canvas effect of strong rich solid colours, such as teal, purple and orange.
Three main coat styles are vying for attention as the hottest fashion trend this winter.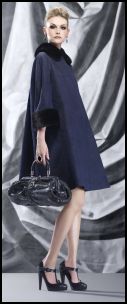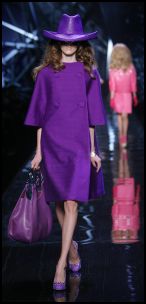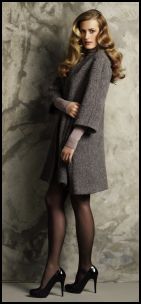 Coats frequently have looseness with easy shoulder lines and capacious sleeves. This loose style is also perfect for fur materials. Trends in collars suggest high funnel stands, shawl collars, large flat collars, geometric cowls, or fur trims which give this style its precision. Here is a classic opportunity for buying a statement fashion coat.
Another trend for autumn 2008 is pyramid coats with a sixties/seventies swing feel.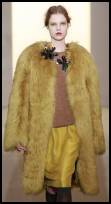 These swing coats flow like an A-line pyramid from the shoulders and they have matching A-line sleeves. Many dresses follow similar silhouette lines. This trend has been gaining momentum for some time and along with cropped jackets will leave a notable fashion history silhouette for the latter decade.
Above left - Dior navy pyramid line coat.
Centre right - Dior Purple coat, accessories and bag.
Above right - Episode at House of Fraser - Greyed taupe coat £299/€478 and roll neck knit £69/€110.
The looser coats above, and the loose straight Marni fur coat right, can also be enhanced with a belt. These fashion coats really are perfect for wearing with flared dresses or prom style fuller skirts.
Left - Marni golden fur coat. This is a statement-making shape, in a bold look-at-me colour.
These pictures illustrate the dominant silhouette shapes that emerge amid many minor styles of fashion trends this Autumn 2008, Winter 2009.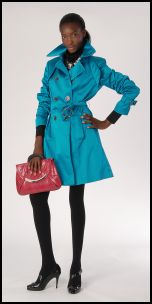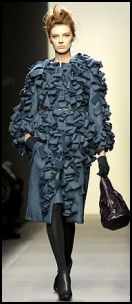 Statement making coats dominated the catwalks in Autumn 2008. Luxury materials such as cashmere and satin help create opulent effects. Look out for plenty of pastel coats in soft ice cream colours. The fashion trend for rich damask glossy metallic finishes continues and look out too for fur trims on hems and cuffs.
Blues are a strong colour trend for this Autumn 2008.
The Bottega Veneta coat near right with its origami like folds of fabric makes an equally bold statement, as does the Celine coat centre.
On the far right we have the high street version of the Celine coat and which is from Marks and Spencer Autumn 2008 Womenswear Collection.
The more intricate the catwalk construction, the slower the design is to reach the high street. Something has to give, and its usually the quality of finish, yet this high street coat really does bring fashion to the masses. It is shorter than the Celine version, and the skirt has less fullness, but it's hot on trend with light teal blue as one of the strongest fashion colours of Autumn 2008.




These coats above are very influenced by late 60's above waist mini coats and military pea coats. They are youthful and fun, and also have an everyday feel.
On the left above the blue single breasted coat and the scarlet red double breasted coats are both from designer Karen Walker.
The mustard coat is the River Island high street version, but with a military influenced majorette high collar. The navy blue coat, far right is from Burberry and is tune with all the inky midnight blue shades around for this autumn 2008.
There are countless high street versions of this coat style, chose your statement fashion piece in either above or below knee length.
Above:
Far left - Blue coat - Karen Walker.
Centre left - Red coat - Karen Walker.
Far right - Burberry coat by Christopher Kane - £795.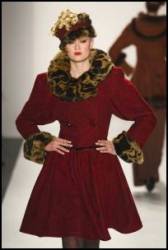 Above right - River Island mustard coat, Autumn/Winter 2008/9 - Mustard tulip military coat £64.99, argyle fishnet tights £7.99, leopard cocktail hat £24.99.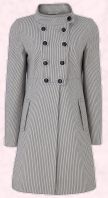 The grey striped coat right is from Freemans and like the River Island mustard coat clearly has been influenced by catwalk trends.
Right - Freemans striped grey coat - Catalogue number:36W 417JAB Freemans Autumn Winter 2008.
The next stage forward with this silhouette is the development of more fullness from the waist. You can see ahead already to another trend with this gorgeous maroon prom line coat from Kati Stern for Venexiana.
Left - Maroon prom line coat by Kati Stern for Venexiana.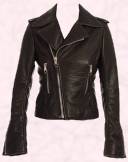 The biker look is sure to be one of the key trends for Autumn 2008/ Winter 2009. Buy into this look now and reap the reward of investment dressing and getting the full benefit of owning a fashionable leather jacket.
One of the most inspired biker jackets was from the House of Balenciaga. Zips are not just functional, but used for eye catching decorative effect. I also like the biker version from McQueen and Oscar de la Renta Shown below.
Far right - Balenciaga biker jacket at about £1400+.
Note the designer edge and those extra long sleeves that could be cuffed or worn so nonchalantly overhand. Perfect for Biker Goth looks.
Almost all the main brands and high street shops have their version of a leather biker bomber jacket and many have half a dozen styles.

Whilst black is favourite, grey, navy tan, brown and animal print biker bombers are all on the racks too.
The collar on biker jackets is frequently fur or faux fur, or the whole jacket can be made up as fur bomber jackets. For a low cost fur, try this fake fur jacket from the BHS Autumn 2008 range.
Far right - Fake fur bomber biker jacket from BHS Autumn 2008 range - £59.
Leather is of course the obvious choice for the body of any biker jacket, but don't forget denim for biker jackets.
ASOS have this great little denim biker jacket, perfect for good weather days beyond summer. Their denim zip detail biker jacket is just £35.

Right - ASOS Womenswear Autumn/Winter 2008 Near left - River Island sparkle biker jacket Autumn/Winter 2008/9.
Shimmer effects and glistening metallic leather, snakeskin and croc effects all keep shimmer and glimmer in mainstream fashion. Fabrics that sparkle and shine in biker looks give a new edginess to this favourite retro fashion.
Following this autumn's fashion trend for tartan plaids and checks, ASOS also have a black and white hounds-tooth biker jacket at £45. But if you prefer a plain biker jacket to hit all the right trend notes add a tartan skirt to your biker jacket

Henry Holland, of House of Holland, put celebrity model of the moment Agyness Deyn, in this chirpy cornflower blue tartan jacket and mini skirt see picture to the left.
The punkiness of this outfit makes it appear innovative and puts it in autumn's must-have category.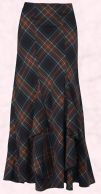 The high street has picked up quickly on this trend, and you can find plenty of plaid, check mini, prom and longer skirts at major retailers such as New Look.
COUNTRY heritage was also a theme at D&G shown far right.
For a lower cost alternative try out those at Marks and Spencer, but take care to keep the overall tartan look cute with a sharp jacket or knit.
Above left - Agyness Deyn modelling a blue tartan suit from House of Holland.
Right - Tartan skirt at Marks & Spencer NO. T62 2782E Price: £70.00 -sizes: 8-20 Short, regular and long. Available: September.
Far right - D&G Ladylike tartan style kilt.
This year the country heritage tartan, and ladylike look, is well supported by an exciting range of interesting innovative knitwear.
Several knit textures and styles stand out. You can see the look of armour in this spectacular metallic cable knit jumper embedded with sequins. The sweater is from Christopher Kane, and it achieves breathtaking designer mastery. Don't expect to see many versions yet, but everyday heavy chunky cable knits in grey, black, natural, ink, olive, berry and taupe, abound in the high street autumn collections.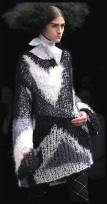 By way of contrast, there are spider's web mohair cobweb knits like this wispy knit geometric pattern tunic left from Alexander McQueen. Other cobwebby knits in brighter random colours were shown at Rodarte.
Collars are a feature that designers played with, and their efforts have led to a revival of innovative ways with old fashion trends such as extra high cowl collars. Some of the cowls are quite sculptured and in line with trends in other areas.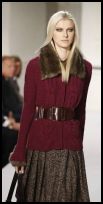 Plenty of cardigans have shawl fur collars, fur trims or ties. Fur trimmed cardigans in natural honey tones, or greys, look wonderful with short prom skirts like this photo right from the Oscar de la Renta catwalk fashion show.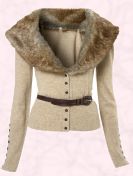 The high street version of the fur collar natural cardigan centre is from Wallis Autumn Winter 2008/9 collection. Cream fur trim cardigan £35/€55. This is investment dressing at it's best, this is a trend that turns up time and again. That collar probably detaches too, so you could transfer it to other items.
Wallis say they, "Promise a glamorous play on winter furs. Textured knits and tweeds are teamed together to create a luxurious weekend feel. Faux fur dominates wardrobes this season - sheepskin, mink and mongolian appear as outerwear or luxe eye-catching trims. Prints echo the natural world with references to bark etchings and animal skin. Earthy tones keep the collection warm with highlights of rust worn with chocolate, ivory and camel."

Dresses continue to be one of the trends that women like the best. Girls and women alike have rediscovered the ease of one piece dressing and love the way a dress shows off their feminine curves.
Sequin and embellished dresses, lace and leopard prints, red, teal and purple garments are all on the dress agenda for Autumn 2008.
The dress can be short and tunic like, knee or below knee, ankle or maxi. There is a dress for everyone, whatever their age and figure.
Dresses fall into many styles, but the most popular for Autumn 2008 are likely to be the slim drapery dress shown left, the 60s A-line shift dress, the embellished shift, and the prom fairy full skirt dress.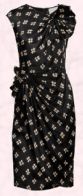 Centre - Black and white Prince of Wales fine check dress by Phase Eight, Autumn winter 2008/9 womenswear.
Above right - Sea green satin dress Late Autumn 2008 womenswear by Marks and Spencer. For Autumn 2008, Marks and Spencer also sell a classic V neckline black dress with a similar side swept feature.
Note how these dresses for Autumn/Winter 2008/9 all show drapery focusing on the waist or side waist. Look out for Grecian drapery variations.
Right - 100% silk black dress by Phillip Lim from matchesfashion.com about £400+.
What has generated a fresh look in dresses and long tunics is intense rich paisley patterns and geometric prints, brocades, tartan, satin, lace and sheers and ice cream colours
Animal prints are even more to the fore this winter and dresses from evening to daywear, long and short cocktail dresses will give you a feline edge. Each key dress trend is dealt with in more detail on its own page.
Celebrity Kate Moss, favoured a shimmering spangle shift tunic dress for the Swarovski Fashion Rocks event earlier this year. Of course wannabes hunted for one just like it. Needless to say, every fashion collection seemed to manage to slip in a heavily embellished dress and this gorgeous dress right, in flesh tone is from Blumarine.
All the major retailers have sparkling sequin, bead, spangle or Pailette dresses in the Autumn 2008/Winter 2009 ranges. But for this look to be on-trend keep at the knee or higher, and keep the accessories simple and plain in contrast. The brave can buy sequin trousers, while the not so brave can stick to simple sequin additions such as sequin shoes.
Cleavage exposure has taken a dive, but in the other direction! Necklines are more modest and provide interest with key holes, peek-a-boo sheers and lace effects. Glamour no longer means show-it-all exposure, but understanding the subtle nuances of statement with style.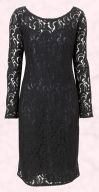 The stunning lace dress on the far left is from designer Eli Saab. He is a master of sophisticated womanly styling.
Clearly the high street rates this style too, and here is a lovely black lace dress near left from Wallis. Wallis Autumn/Winter 2008 - Black lace dress £60/€95.
Lace is a sure winner this autumn and was much favoured in Prada's catwalk show. Prada pulled out all the stops with her use of Swiss lace, in fact it's so crusty that was also used to make lace handbags. In my mind there is no doubt that the lace trend will slowly grow and become a huge fashion statement. But Prada's version is not the itsy-bitty pieces of lace trim on the edge of a ruffle. This is lace used to make whole garments in the style of covetable whole lace garments of 50 years ago, along the lines of work by Irish designer Sybil Connolly.
Real lace is back in the high street, even though manufacturers won't be able to make the Swiss lace so beloved by Prada. The thickness of it puts it in the passementerie category. But, they will be able to produce jolly good substitutes for the mass market. Watch this lace fashion trend rise and rise in the next 2 years.
Gorgeous, feminine, understated, but sophisticated and lace looks await women and the elegant dressing will delight men.
This decade has been one in which women have openly embraced ethnic folkloric styling in their dress. No sooner is Boho thought to be on the wane, when it resurfaces on the catwalk with even more authority than before. Women loved the vibrancy of gypsy skirts of a few years ago and the oh so easy to achieve styling possibilities of eclectic ethnic folkloric dressing.
The Gucci collection ensured we all became reacquainted with the richest of Boho Folk patterns and fringe.

Folksy Boho alternatives were provided by DKNY too as 70s hippy dresses with peasant appeal in browns, gold, orange, rusts; all are a highlight of the DKNY collection.
This is such an easy look for both the high street and the average female consumer to translate from the catwalk, so expect to see plenty of Boho Folk items this forthcoming winter.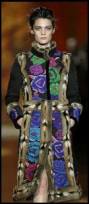 Key pieces of the Boho Folk look include the paisley/folk print dress, the coat with embroidery, the richly printed/embroidered scarf, the wild fur or print bag, and fringed boots.
This folkloric dress left is from Warehouse and is styled to give you are real feel for autumn looks. This image shows two key trends to watch out for in autumn 2008 - the gilet and the folkloric print dress.
Right - Rock Stylist Dress £60/€95, Gilet £50/€80, Jean £40/ €62, Belt £35/€55, Scarf £16/€25, Skinny Scarf £25/ €40, Boots £100/€155 - All Warehouse Autumn/Winter 2008 Collection.
Near left - Embroidered coat from Roberto Cavalli.
There has been a growing trend for the full prom skirt. It's been gaining strength for a couple of years in the form of casual slouch skirts. Now the prom puffball is a shape to note in both skirt separates and dress styles. By next year I'm sure many coats will have prom style full skirts.
As the trend for coats has been toward looser shapes, and A-line fullness in the lower half, so it has become easier to wear a wider or fuller skirt in winter. Short jackets like the biker styles also make it an easy choice for more voluminous skirt styles.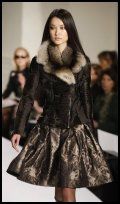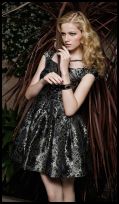 Ruched net tutu petticoats that lift and enhance the skirt roundness are now more easily available from retailers. But if you are having trouble locating a 50s style net petticoat, try browsing fancy dress websites with a Google search for 'tutu net petticoat'. Or look for Goth clothing sites and try searching for Goth petticoats.
Stiffer fabrics like the brocades used in these two photos left, will of course hold out better from the body than limper fabrics like satin. satin prom dresses will need support of a net petticoat if you want that flower fairy puffball effect.
The biker bomber jacket discussed above looks terrific with jeans, trousers, tights and mini or teamed with a full prom skirt or prom dress. It even looks good on a motorbike!
Near right - Oasis brocade prom dress TBC.
Far right - Oscar de la Renta brocade skirt and biker jacket.
This is an autumn rich with sophisticated black lace and dangerous drama. There were numerous soft feminine Goth catwalk looks shown for Autumn 2008.
Designers used rich black velvet, brocade, sheers or satin to create Goth/Punk effects that were mysterious, enticing even elegant.
Far Right - Givenchy skinny trousers, severe jacket and lots of metal hardware, crucifixes and chains.
Carefully selected footwear with impressive hardware - zips and studs and fringe, or pile 'em high neck chains all add a Gothic styling touch, that can be reworked to cover several other looks such as Boho Folk. Try Plumo online for a great multi-chain necklace to achieve a similar styling effect.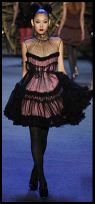 Frills, ruffles, Mongolian long fur, buckles, bows, waist belts, together all combine to add strange off the wall, edgy and weird elements. The look is easy to achieve with prom styles, bustier dresses, patterned tights plus a bit of peek-a-boo sheers.
Whilst the look is predominantly black plus metallic steel or silver. When a splash of colour is needed it hinges on small amounts of starkly contrasting mixes of purple, pink or henna red with black.
Left - Zac Posen - Dressing with sheers.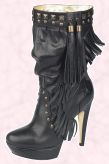 The Gothic fashion look is a trend that can be worn as dramatic, mysterious, vampish or as soft as you prefer. For the more cautious, simple dark lips and nails, lace black tights and a black based ensemble will soon take you there.
One of the best purchases you could make for Autumn 2008, Winter 2009 would be of a boot similar to these shown right.
Move into several of the season's trends with just a pair like this. These boots are a take on some of the styles currently on offer at Gucci.com. Fringe, tassels, 2 types of hardware studs, deep platform and a high heel all hit the right fashion trend note.
Right - Black fringe stud boot £120.00 from River Island Clothing Co. Ltd - Stockist - 0208 991 4759 - www.riverisland.com


Despite the resurgence in dresses, many women prefer trousers for everyday wear. Pants are practical for the working woman and mannish looks always veer toward classic territory.
The two emerging autumn styles are the easy high waisted flared pants from boot cut to the widest 1970s flares.

But the style getting attention is a slim line version of the peg-top trouser line, which was a popular 1980s fashion. These peg-top trousers sometimes now called carrot-top trousers taper to the ankle, and usually have tuck pleat fullness at the waistband. This style can be very flattering if you have a tummy. Note that too much fullness can make a woman look frumpy. YSL as the centre image shows, did it best. This was sharp and sophisticated designing.
Far right - Sequin trousers from YSL
Near right - Stefano Pilati at YSL
Left - Michael Kors
Finally the skinny leather pant is a catwalk fashion coming to a shop near you this autumn.
These are the key new fashion trends for Fashion Trends Autumn 2008, Winter 2009. So think sculptured, folksy, animal, biker, opulence, lace, fur, tartan, bold tights, black or inky toned gothic and make your fashion statement count.
This page has been about the key trends that will be in the shops this Autumn 2008, Winter 2009.
Bookmark/Share this article with others: