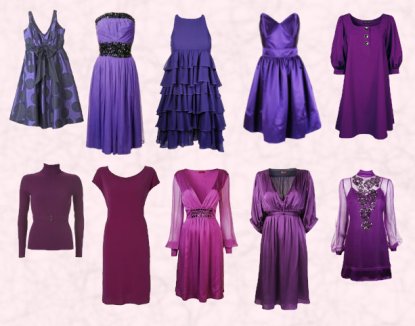 One of the strongest clothing colourations this season belongs to the purple family. Purples ranging from inky deep Parma violet, warmer purples through mauve to tonally related puce and magenta (Tyrian purple) have all taken the whim of the designers.
These garments left are just a small selection of all the purple and puce toned items available this autumn in the high street. Purple is such a rich colour that it looks particularly sumptuous in rich satins and plush velvet fabrics. Read about purple history below.
Details of these currently available autumn 2007 garments are at the bottom of this page.
Stockist Details - from top left to right they are respectively from Evans (spot dress), the next three violet party dresses are from Monsoon, and the last purple sleeved dress is from Dorothy Perkins. Second row, left to right two purple puce garments from Wallis, and the last three sleeved dresses are from Monsoon.
A purple top or tunic is an easy and low cost way to add some purple colour into your wardrobe. The loose easy bandeau top below left is from Internacionale. The purple and black top shown below right is from New Look. With the sequin trim, both would make ideal clubbing wear for the party season. Both tops also look roomy enough to eat a full meal out and remain feeling comfortable all evening.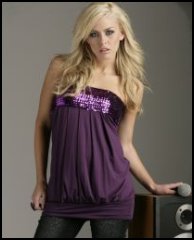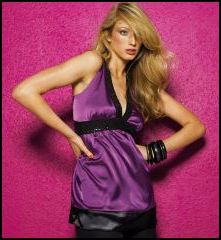 For an upmarket occasion consider one of these sophisticated dresses.
Right - Vera Mont evening gown.
This specialist evening and special occasion wear label creates striking effects with an impressive combination of materials, using different lengths and layering effects to give the collection a distinctly modern feel.
This shimmering violet evening dress, with clever draping and fancy black net lace layering, is made from 100% polyamide and is from the Vera Mont Autumn/Winter '07 collection.
Vera Mont model number 2136/4107. Dress Price in UK ₤265.00*/ IRL €345.00.
Part of the Betty Barclay group, there is also a Vera Mont younger line, VM, with avant-garde individual items such as a lavish waistcoat in a crushed plain-coloured fabric patched with a striped design and a hand-stitched look, daring jodhpurs, short Spencer jackets, bodices or balloon variations are made either in dusty colours or in contrasting black and white.
The Vera Mont collections also offer lots of cute cocktail dresses – perfect for a night of partying! This beautifully cut long purple evening gown on the verge of aubergine in tone, is sure to be a fast seller.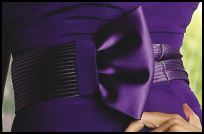 Sometimes you need an occasion dress that is not as formal as a full length or maxi gown. Treat yourself to a luxury dress from Emma Somerset. What could be more stunning than this Parma violet short cocktail dress by Escada.
Note the waistline detail right which has look of luxury about it with all that even topstitching on thick satin.
Left and right - Emma Somerset Autumn/Winter 2007 dress.
Escada tuxedo shift dress £875.
Necklace and earrings set £245 by Emma Somerset.
The model has teamed the dress with black jet jewellery, but amethysts, tanzanite or peacock pearls would pick up the colour of the lovely dress so well.
Both silver and gold look very good against purple and this dress is edged with a band of gold satin fabric, a great contrast to both colour and texture of the purple fabric in the main body of the dress.
The dress below is from French Connection and the main body of the skirt is purple velvet.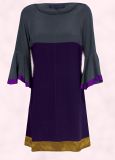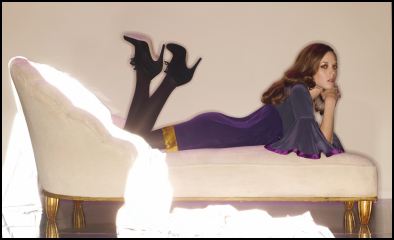 Below - French Connection Campaign 07 - Sioux silk dress £95, black ankle boots £90.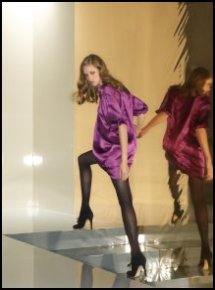 The advantage of the dresses above and those below is that they have sleeves. Many women over a certain age, hate their arms, or know they look best covered up. At last we are seeing evening dresses with sleeves.
Monsoon have lots of dresses featuring sleeves as well as plenty of other styles. For many women it's pure relief to see the return of sleeves.
Left - Campaign picture from French Connection Autumn Winter Campaign 07 - Beatle satin scoop neck dress £85, black suede ankle boots £90.
Manufactures omitted to observe that many women rejected the dresses on the racks because most had shoestring straps or were sleeveless. Even a short sleeve dress was hard to find. If you could find one with sleeves, it was so frumpy even 80+ year olds rejected them. The skimpy petticoat style cowl or bra dress tops were simply too bare for the average woman.
It amazes me that manufacturers failed to get this point, or chose to ignore it for so long. If women were snapping up first the Pashmina to cover their arms, then shrugs and cropped Spencers, how could they have ignored for years that women wanted sleeves in their clothes.
Manufacturers commented that dresses were not popular, and that women only wanted trousers. Not true. Every woman I spoke to during the demise of the dress in the past decade, said they would wear a dress more often, if only they could find one that covered their arms, or at least part of their arms, but especially their top arms.
I know many women I shop with who walk straight past sleeveless or strappy dresses. They won't even stop and browse them. I confess I immediately envisage the solution of a jacket, or shrug, so I do look at them - but I'm not trying to hide my arms, but my midriff so the jacket has an extra use! We all have our peccadilloes.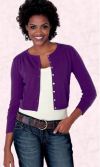 These anti-sleeveless dress women are not fat, they just think their arms have seen better days and you know what, these women know themselves. They are sophisticated enough to know the rules. Some women won't even look at their arms in a changing room. Let's face it some of those 3 way mirrors are very cruel and the harsh lighting shows up every bit of gooseflesh. A regularly used body brush or rough loofah may well be the answer, as might a visit to the gym, but reality means a sleeve is a faster option.
Right - Purple cashmere cropped cardigan from Autumn Winter 2007/8 NEXT Directory £60.
So readers here are two wearable long sleeved dresses, one for an occasion meal, or other event and the second for just being in a dress.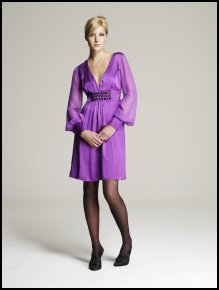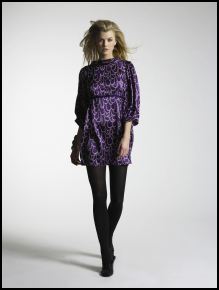 Above left - Light purple dress from Monsoon. Monsoon Christmas Collection 2007 Alex Dress - £65/€99 - In Store October - Christmas Collections 2007.
Above right - Purple silk empire line dress £40/€58, Gold cuffs £12/€17 each, Black tights £3/€4. Black strappy sandals £25/36€ all from New Look. Right - Print detail.
Note how in most of the images on this page the dresses are worn with dark hosiery or thicker tights. You are reading an original fashion trends article by Pauline Weston Thomas at www.fashion-era.com ©
Tyrian purple of thousands of years ago was once a much warmer puce colour with hints of crimson. Today we would probably call the same colour magenta.
Tyrian purple gets its name from the place of origin. The purple dye was made in Tyre in Phoenicia using marine secretions from the snails found in Murex shells. However the Minoans are also thought to have made a similar royal purple dye using Murex shells found on Crete, but centuries before the Phoenicians made their discovery.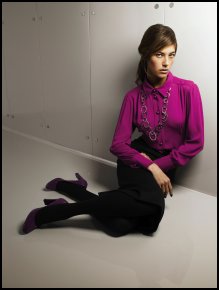 The dye was always a luxury product and it was as expensive as silver weight for weight then, just as saffron is more costly than gold gram for gram today. Each snail yielded a drop of liquid which took time to develop into the dye making the dye costly to procure and produce. Tyrian purple had a crimson tinge to it.
In Roman times only the upper echelons were allowed to wear purple togas and so a regal connection was born. From this early beginning it became known as the imperial dye. Tyrian purple was very rare and costly to procure from the sea. It needed specialists trained to get the snail bearing the dye. Tyrian purple was more the puce tone you might see on a Bishop's robes which today we think of as crimson like. It's very similar to the tone in photo left.
Purple is a mixture of red and blue. Don't confuse purple with violet which is on the end of the indigo blue spectrum, making it a spectral colour. Variation in purple colour is due solely to the combination mix of red to blue rather than to wavelength as in spectral violet. In good light or as a sheer fabric violet appear more blue toned than purple. Purple may seem warmer and redder.
Left Wallis magenta blouse. Dark magenta blouse £30/€44, Black knee length pencil skirt £30/€44, Multi ring chain necklace £12/€20.
Purple is a colour full of symbolism and a long association with royalty. The colour purple denotes affluence, supremacy, dominance and magnificent opulence.
Purple is also associated with spirituality, mystery and pacification. The stone is believed to protect wearers from getting too intoxicated with alcohol. A good quality amethyst will be a rich deep purple gem, but paler tones of lilacs to rose amethysts are available to suit many tastes and price ranges. The amethyst birthstone is very hard wearing and this makes it a good jewellery buy.
The amethyst is the stone of Saint Valentine and was once the stone of Royals as purple was the colour of power. It is the perfect gemstone to give as a Valentines jewellery gift on Saint Valentine's Day, celebrated on 14 February each year.
Tones of purple can be used as a mourning colour instead of black or white.

From left to right, Autumn Winter 2007 high street dresses and knit top starting with the short spot empire dress.
All the purple to magenta garments in this group are from the Arcadia Group which is made up of some the best known high street shops. The top price of any dress in the line is £100.
Evans A/W 2007 - Purple polka dot dress £80/€122. Evans specialises in larger sizes.
Monsoon bandeau Shannon dress - £55/€85 - Monsoon Fusion Christmas 2007 - In Store September.
Monsoon tiered cutaway Gypsy dress - £48/€74 - Monsoon Fusion Autumn Winter 2007 - In Store September.
Monsoon purple Tanya prom dress from Monsoon - £55/€85.
Dorothy Perkins sleeved purple tunic dress with black buttons £30/€45. Dorothy Perkins Autumn Winter 2007.
Monsoon V satin Isolde dress - £75/€115 - dress with elbow sleeves from Monsoon Storm - a capsule collection.
Monsoon Storm is a new capsule collection launching Autumn Winter 2007.
Monsoon chiffon sleeve encrusted Bea Tunic - £100/€155 - Monsoon Originals Autumn Winter 2007.
Monsoon - The Originals collection is a limited-edition range of exquisitely designed evening wear available in 33 stores and online. Inspired by vintage pieces sourced and handpicked by the Monsoon design team, the range has its own exclusive colour palette and has a signature unique to the high street.
Wallis cap sleeve Magenta dress £40/€65 - Wallis Autumn Winter 2007.
Monsoon V neck long sleeved Alex Dress - £65/€99 - In Store October - Monsoon Christmas Collections 2007.
Wallis Magenta rib belted polo sweater £27/€45 - Wallis Autumn Winter 2007.
These are the new fashion styles from Monsoon, Dorothy Perkins, French Connection, Wallis, Evans, Vera Mont, Emma Somerset and New Look for Fashion Trends Autumn 2007, Winter 2008.
Bookmark/Share this article with others: