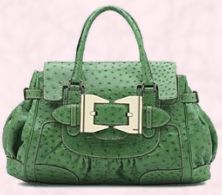 The swiftest way to update your fashion wardrobe is to splash out on the latest 'it' handbag. In the past season, several 'it factors' have emerged rather than an 'it bag brand' of note.
Last year, the luxury super-soft treated skins used for the Zagliani bags got a great deal of press coverage for their innovative fashionable bags. In 2007 these bags were shown mostly with a hefty £1500 price tag. The Zagliani story was such a success, that matchesfashion.com now sell Zagliani handbags from £550 for a small trendy clutch to £6785 for a large puffy croc bag.
This year, no one material or construction such Bottega Veneta's intrecciato woven leather technique has so far stood out enough, to be a must-have bag. Already high end mass producers are using a similar technique. However, both croc and ostrich textures have proved popular for the fashion designs coming from the high end retailers. Could this green ostrich bag from Gucci and shown left, be this year's 'it' bag next trend. At £5710 you may seek high street alternatives that are more affordable. Yet if you have stealth wealth - go ahead!
This lovely trio of bags by Osprey is their Ava style. Ava is made from polished croc embossed leather, with silver lock and key.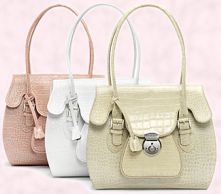 The Ava bag size is perfect - not too big and not too small. Never mind the fashion trends, like all 'good' quality bags, it has a studded base. These bags also pay attention to our need for pockets.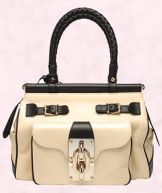 There is one convenient outside pocket, which would be perfect for keys, small change or a mobile phone as well as two inside pockets. But for me, the most appealing 'it factor' is the adjustable underarm shoulder strap, so that the bag can be tailored to sit well on the individual shoulder.
This lovely leather bag left, by Balenciaga is from Browns and costs £1200. The two tone bag has short plaited handle.
Right - Polished Croc Osprey Ava Bags shown in White and Rose - Code: 0850-50 and £435 each.
In spring 2008 it's not just metallics, crocodile, lizard, snake skin or other animal style materials that are available. Bags are made from a wide range of abstract and floral prints, tribal dyed textiles, wood, raffia and bead encrustation. Shiny patent leather is also a look that glistens.
For all styles, you can see texture and pattern in bag materials.
Smaller bags have returned - especially as clutch bag accessories, often with a wristlet loop.
The colour for bags is bold and bright as well as soft and pretty. Every colour is available.
For 2008 bags, there is a definite trend to play with colour, novel texture and fabric. Coarse woven linen looks, crochet materials, gem or pearl studding, busy printed fabrics and tie dye effects all feature on bags. You can also see the exact same effects on the must-have platform sole or wedge shoe.
Both bags and shoes show a trend to set one texture against another. For example, rich suede with both matte leather and shiny patent in one solid colour and with even more contrast from textured gold chunky chains or tortoiseshell handles. Patchwork effects are a growing fad in bags and footwear.
Bead and faux gems, or pearls in particular feature both on knitwear and bags.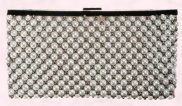 Above Left - Dune Envelope Clutch Bag - Milla, £55/€80. Dune Court Shoe - Killa, £85 or €120.
Above Right - Dune Spring/Summer 2008 - Ladies & Accessories - Sandal- Lilly, £85/€120. Clutch Bag - Milly, £45/€65.
Right - Pearl Clutch Bag £30/€51 from Accessorize Springs/Summer 2008 Bags.
Invest now in the clutch bag. This is the most fashionable 'new' bag trend for Spring and Summer 2008. Although an oft revived style, its now showing many innovative quirks that make it look like a fresh trend. You may see loads of larger tote like bags in the stores, but I feel that although we all need a big bag in many situations, big bags are now at mass saturation point.
A smaller bag, especially if it is an investment purchase like this Osprey clutch, is a bag trend on the up.

Near Right - Clutch Polished Croc leather clutch bag from Osprey - Code: 0873-50-BLK 34 cm long - Price: £265. Russell and Bromley were also stocking a clutch bag of similar style recently in black suede.
Right - River Island Clothing Co. Ltd Accessories Spring 2008 - Blue Clutch Bag £21.99.
There have not been so many different coloured bags to be bought since the fashion trends of the 1980s era. Just a decade or so ago in the nineties, bag colours had become limited to neutrals of black, brown, tan, beige and navy. But now along with bold colour, there is also pattern and contrast piping. Some colour is stylish, some simply garish, but there is choice; you are no longer limited to black, navy, tan or taupe.
Thank goodness.

Right - Frivolous, red soft washed leather DIOR gipsy ruffles bag with zip closure at £895. Available at Dior online.
For the spring and summer of 2008, both the designers and the high street stores have provided superb choice, and as a result you can choose from a huge range of smaller hand bags and clutch bags. The shops are also stocked with lots of larger tote bags. All these oversized bags we have become so used to carrying happily sit beside the newer smaller bags. Ahhhh - choice - wonderful.

The clutch bag accessory of course comes in any size, and thus is a great way to work toward downsizing your bags. You easily remove the small clutch (much like a money purse wallet) from a larger tote bag, and this is great way to ease yourself into using smaller handbags.
Or try a crafted bag like this novel Eire design from jamescyn.com. It has a vintage expanding circular metal closure and bracelet handle.
It's simply magical for a special occasion. Above Left - Jamescyn Eire bag in green velvet, lined in golden silk and with a secret pocket. Exquisite - I love it.

But for some the Eire bag may be too small. Many will find it hard to forego all the excess personal trappings they are used to toting around. Yes shops have hundreds of oversized bags in stock, but they are not the hot fashion of a few seasons ago. Use your oversized bags more as small luggage bags, or as overnight vanity cases. If you need a larger handbag, especially for work and travel, consider if your existing tote bag has the 'it factors' of the moment. Three looks stand out - dome, puffy and doctor bags.
The black doctor bag right, which looks like a great all purpose bag, is from the Jane Shilton range.

If you are not yet ready to abandon your larger bag then try to select a frame bag which is neat and shapely, rather than loose and undisciplined. Left - J by Jasper Conran Clutch Frame Bag - Debenhams Spring/Summer 2008 - Women's Accessories £25/€39.
For summer 2008 add a neat, pyramid dome style bag to your collection. The small bag left is the newest take on the pyramid silhouette. Note the mixed textures of the chain handle. On the right the pyramid bag in soft pink has the popular shoulder strap and short handles option. River Island Clothing Co. Ltd Womenswear Accessories SS08 - Pink Bag £29.99/ €50.50
The bags below are much larger scale wise, but note the similarity of bag silhouette.
The pyramid dome bag follows the style of the YSL muse bag and is similar to these high street bags.
Left - Grey croc embossed handbag by Vivienne Westwood for House of Fraser - £585.
Right - Coccinelle green dome handbag at £175 and also from House of Fraser.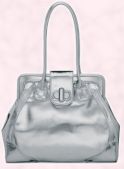 Note also that the majority of these tote bags are true handbags rather than underarm bags. Of course there are still plenty of underarm bags on offer.
This silver bag left has many fashionable elements, and can be found in the Novak by Alexander McQueen. This silver bag is from Debenhams Spring/Summer 2008 Women's Accessories range of Red Herring bags and is inexpensive. Debenhams Mika Bag £25/€39.
When shopping in a crowded city, an underarm bag firmly closed and tucked between arm and body, seems more under personal control than a loose long handle shoulder bag, that floats about more freely.
These are all attractive, well-shaped bags for this season.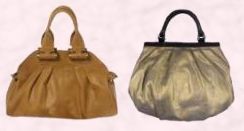 Puffy bags follow a similar line to these dome bags above and the similarity in proportion is important.
Immediate Right - Tan Rocked bag by Dune in dark tan, £85/€120.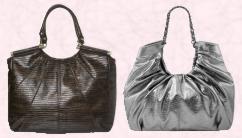 Centre - Billy Bag - Molly style burnished old gold tone handbag in balloon puffy framed style - £140 from the Cruise Collection, Winter 07/08.
Far Right - Billy Bag - Blue Molly puffy handbag at £120 from the Billy Bag Spring 2008 collection
These totes all have related elements. There is also a trend for inset loop grab handles in leather or metal tubing. Immediate right - Wallis Spring summer 2008 black oversized lizard tote shopper £30, €47. The silver tote far right is from New Look.
Capacious bags for summer holidays set the mood for sunny days ahead. A reverse dome bag makes a great basket style for carefree summer days. These 2 baskets from the high street both look good and one even has a Gucci touch. You could easily add a scarf in a colour of your own choice.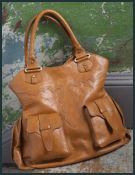 Far Right - Gold contrast edge basket by Dune Spring Summer 2008 Accessories Collection.
Near Right - Basket with thread through fabric by New Look.
This tan bag from Plumo with western style trims and two outer pockets and is generously proportioned inside with a zipped, large inner pouch. It has chunky pocket features to access must-have items quickly making it perfect for travelling.
Left - Prairie Bag by Plumo - £129.00.
Bookmark/Share this article with others: